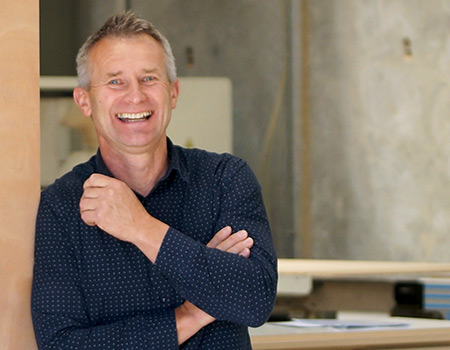 Steve Harvey, Managing Director
Advance Trade Certified in Carpentry and Joinery, 29 years in the industry
Steve is always looking to improve products, services and systems. He wants Re Space to exceed client expectations on every single job. Steve is very knowledgeable and hands on when working, being involved in consultation, design, quotations – all the way through to installation.
Before starting Re Space with Peter, Steve was a project manager overseas in the commercial office fit out industry. His trade apprenticeship was served crafting wooden joinery such as doors, windows, stairs, vanities and kitchens.
Outside work hours, Steve can usually be found with his family and planning how he might be able to maximise his time in the great New Zealand outdoors.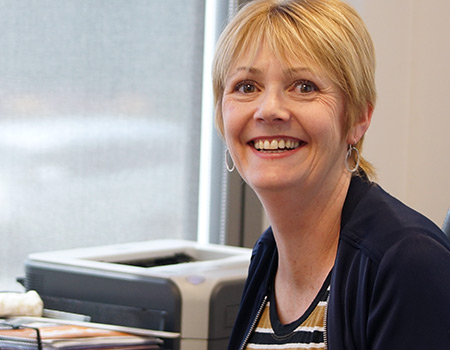 Jan Harvey, Office Manager
Jan has an extensive background in office administration working both in New Zealand and overseas.
Working at Re Space is a part time role for Jan. This enables her to manage her three very energetic young girls, organise and take part in school fundraising events, and still get them all on time to dancing, gym, and whatever other activities come along! Totally organised.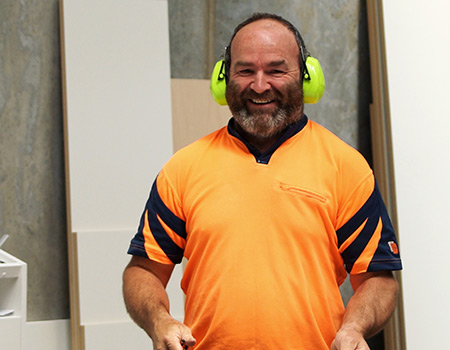 Peter Harvey, Joiner
Trade Certified in Joinery, 25 years in the industry
Peter is hands on when it comes to ensuring quality and timely production.
Prior to starting Re Space with Steve, Peter was a site foreman in the construction industry, involved with various commercial projects such as apartments and wineries. His apprenticeship was served constructing a wide range of joinery and cabinetry, working extensively in the marine industry, an area where his eye for detail and finishing skills came to the fore.
When not working, Peter is to be found spending time with his young family and out on his few acres looking after his sheep. He also enjoys boating, hunting and fishing whenever he can.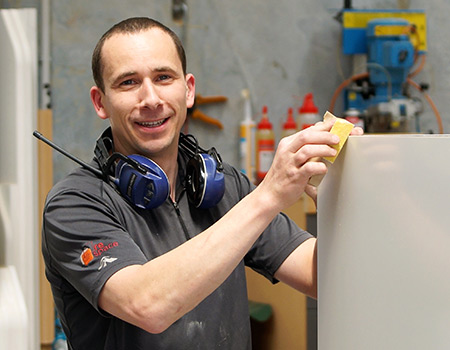 Stephen Murray, JOINER
NVQ Level 2 Bench Joinery – UK, Intermediate Construction Award
Our workshop-based joiner Stephen trained in the UK in high end bespoke cabinetry, and has worked in the New Zealand joinery industry for five years. With a patient approach and meticulous attention to detail, he is responsible for manufacturing our products and preparing jobs for installation, a role he thoroughly enjoys.
When he leaves our workshop at the end of the day, he's off to his own, to make furniture from reclaimed pallet timber. A keen mountain biker, Stephen's hobbies also include power kites and taekwondo – but above all, he enjoys sharing his love of the outdoors with his four year old son.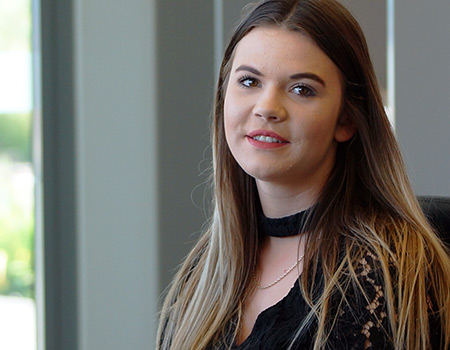 Brittany Goodman, SALES
Business Administration
The friendly face at our front desk for the last three years, Brittany assists with sales and quotations. Cheerful and happy to help, she brings to her role great listening and communication skills, along with a good working knowledge of layouts and design.
Always up for an adventure outside of work hours, Brittany likes to spend time with her friends and family, take her dog out for walks, and cook up a storm in the kitchen.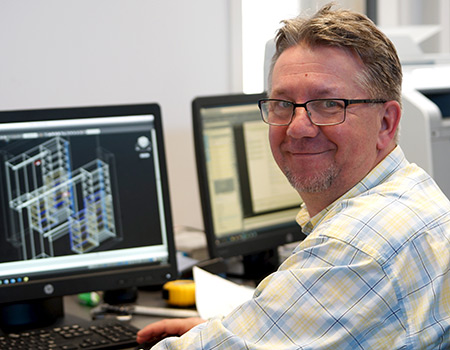 Gabor Irmalos
CAD-CAM Technician/Programmer
A tool maker and CNC machinist with more than 20 years of experience, Gabor excels at drafting, 3D modelling, CNC programming, and preparing machine shop drawings. His planning and communication skills combined with CAD-CAM expertise give his technical development of products a highly professional edge.
After hours, Gabor enjoys spending time with his family, and playing and teaching the drums.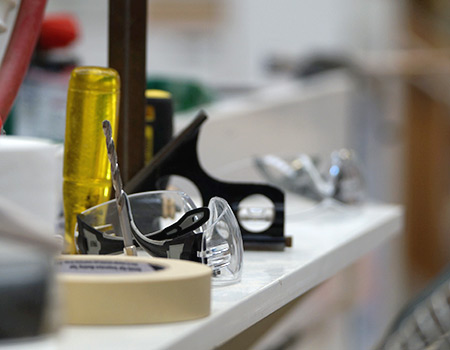 WAYNE MIDDLEMISS, JOINERY INSTALLER
Completing Certificate in Joinery, 18 years in the industry
Wayne manages Re Space joinery installations for the top of the South Island, making his way around Nelson, Marlborough, and as far south as Christchurch. His problem-solving abilities, eye for detail and communication skills are combined with 14 years of experience in wardrobe joinery and a further four years in furniture and spray finishing.
At the end of a working week, Wayne enjoys a good drive and appreciates a fine motor. Sports and the great outdoors come in at a close second!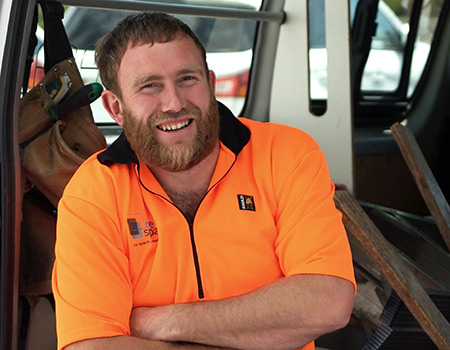 Christopher Sheldon, Joiner and installER
Apprenticeship in Joinery
Christopher is generally found in the workshop making joinery, and also does some installation work. He has worked in the industry for six years, on everything from kitchens to staircases and solid timber joinery, and takes great satisfaction in a job well done.
When not at Re Space, or working on his own home joinery projects, Christopher takes part in waka ama racing, and enjoys bush walking.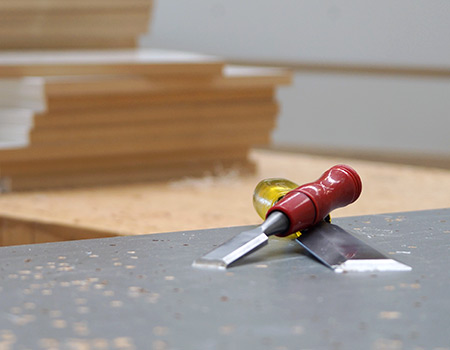 HOHEPA SMILER, JOINERY INSTALLER
Apprenticeship in Joinery
With four years of both workshop and installation experience, and ongoing trade certificate training, Hohepa is continually building his joinery skills, and takes pride in finishing his work to a high standard.
He puts his knowledge and skills to good use in his spare time as well, renovating his bus!